21/06/19 9:52 chiều | Luợt xem : 3774
Vietnam Elevator Expo is divided into dedicated product categories.
Vietnam first elevator exhibition can deliver such a high number of quality and diverse exhibitors showcasing the product areas identified below:
Alarm and communication systems
Building hoists
Building services
Car and landing doors
Communication systems
Control and drive systems
Disabled access lifts
Electrical components and packages
Escalators
Fastening and fittings
Fully enclosed lifts at 0.
Geared machines
Gearless machines
Goods and vehicle lifts
Goods only lifts
Home lifts
Hydraulic power units and components
Installation services
Insurance
Lift cars, finish and refurbishment
Lift maintenance
Lifting gear hire
Lifting platforms – enclosed
Lifting platforms – unenclosed
Maintenance services
Modernisation services
MRL lift
Passenger lifts
Passenger protection
Product solutions for modernisation
Professional services
Push buttons, displays and control devices
Ropes and suspension solution
Safety components
Service lifts
Spare parts for maintenance and modernisation
Special projects
Stairlifts and wheelchair platform stairlifts
Strip-out and dismantling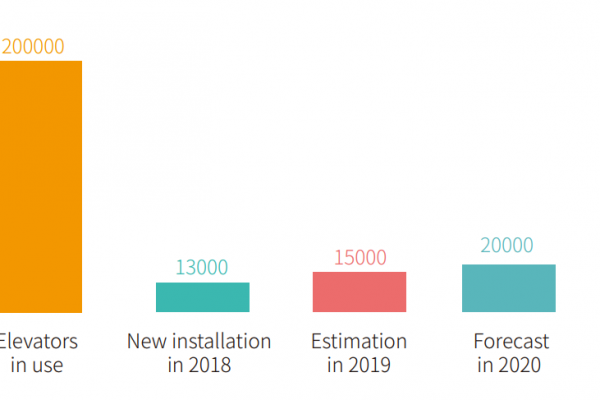 Vietnam currently has about 200,000 elevators in use and 13,000 new elevators in 2018. Vietnam's new elevator market is expected to reach 20,000 units. Vietnam's elevator industry has limited processing capacity with parts and components importation basically. The Vietnam elevator market is growing rapidly with $74.76 million in 2017 and is expected to reach $160 million by 2025. The Vietnamese government plans to build 13 subway lines in Ho Chi Minh and Hanoi by 2025. New subways and other infrastructure will bring a lot of opportunities for elevator companies.